Experimenting with smart sensors
The third Sensor Data Challenge took place on 22 and 23 April 2021. This event was organised by Statistics Netherlands (CBS), The Hague University of Applied Sciences, the Dutch National Institute for Public Health and the Environment (RIVM) and Utrecht University. The 24-hour hackathon presented students and junior professionals with IT and data science on various issues relating to health, work and life. The aptly-named winning team, 'Simply the best', came up with a way to make it easier for respondents to fill in the CBS Time Use Survey, which tracks daily activities.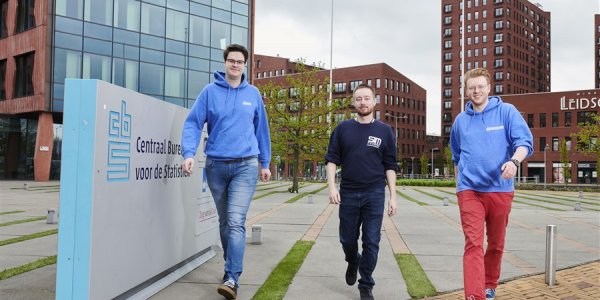 Smart sensor technology
As sensors become ever lighter and more affordable, they are increasingly being used in the production of statistics. Smart sensor technology makes it possible to improve data quality and to measure answers to questionnaires in a more objective way. For some years now, CBS has been looking for applications for sensors when it comes to taking measurements among large groups of people. As small sensor systems can play an important role in this respect, CBS and its partners have organised a Sensor Data Challenge almost every year since 2017 to stimulate innovation.
Challenging issues
As in previous years, the Sensor Data Challenge 2021 generated a lot of enthusiasm. 'In the end, eight teams took part,' says Barry Schouten, a CBS methodologist and a professor by special appointment at Utrecht University. 'Students from The Hague University of Applied Sciences were particularly well represented, but the universities of applied sciences in Groningen and Zwolle also sent participants. The University of Munich added some international flavour.' The topical problems the participants tackled were put forward by a range of partners. 'The Arbo Unie was interested in measuring workers' exposure to hazardous substances, while the Ministry of Defence wanted to be able to measure how much stress soldiers experience when they are in action. At the University of Munich, the focus was on measuring the quality of speech in older people who face issues such as loneliness. And CBS was looking for a way to make it easier to complete the Time Use Survey.'
Learn and experiment
Mirjam Zijderveld is a lecturer in Organisation and Change Management on the Technical Business Administration programme at The Hague University of Applied Sciences. She introduced the first hackathon at her institution six years ago, to solve health-related problems. 'We first came across the concept during our trip to Silicon Valley for a knowledge exchange in the United States. I was looking for an innovative way to get students engaged, and a hackathon is a great way to learn and experiment. Everyone gets something out of it: both the problem owners and the students.' The concept inspired John Bolte, a lecturer in Smart Sensor Systems at The Hague University of Applied Sciences, to team up with his colleagues and Barry Schouten from CBS and to develop the idea into a stimulating challenge for students and junior professionals. The challenge focuses on issues of health, work and life.
Discovering new methods and techniques
One of the enthusiasts who participated in the hackathon was Danny de Jong, whose team won the first prize of €1 000, sponsored by CBS. He is currently studying Computing Science at Utrecht University, but he had previously studied software engineering at The Hague University of Applied Sciences, where he met Lennart van Koppen and Matthijs Boelens through the student association. They formed a team called 'Simply the best' and entered the Sensor Data Challenge. 'This wasn't our first hackathon. We also took part in ANWB's Mobility Challenge and the Dutch Open Hackathon organised by the University of Applied Sciences in Zoetermeer. It's a great way to learn a lot and to discover new methods and techniques in a short timeframe.' The coronavirus restrictions meant that this hackathon was conducted entirely online. 'Fortunately, when it came to solving our problem with the Time Use Survey, we were able to draw on the excellent and enthusiastic assistance of Marieke Houben-van Herten, a researcher at CBS.'
Journal data
The CBS Time Use Survey was launched in 1975. In this European study, every five years a large group of people are asked to keep track of their time use in a journal, which they update every 10 minutes for one week. Diary data are a rich source of information, because they shine a light on who does what and when. In practice, it can still be difficult to keep an accurate record of all activities on a given day. 'We were asked to think of something that would make it easier for respondents to fill in the diary more accurately,' De Jong explains. 'For outdoor activities, you can use the GPS on your smartphone, but for indoor activities you need to find an alternative solution. You can install Bluetooth beacons in your home, which use signals to show which room you're in, but that's an expensive solution. That's why we decided to use NFC (near field communication) stickers with sensors, which you can stick up in your home and read with your smartphone. That way, the information is right there in your diary and it's much easier to fill in your journal later.'
Criteria
Looking back, Zijderveld is very pleased with the results of this hackathon. 'Despite the event being held entirely online this time, everything went well. We sent the teams a basic sensor kit and they enthusiastically set to work with it. Most teams even worked through the night.' The winning team managed to put together a working demo within 24 hours and to give a live demo during their final presentation, which really wowed the jury. 'The jury used a range of criteria to judge team solutions,' Schouten notes: 'originality, feasibility and demonstrating that the idea works in practice. The winning team scored very highly on those points. Their idea is also relatively low cost and very useful to CBS. We hope to organise a pilot in this field by the end of this year.'
bron: cbs.nl